Modal
Quantity
Size
Description
HP1501-75
1
Lenght=220cm(88inch) Diameter: 75cm (30inch)
Chamber + Three-in-one machine (Air/Oxygen/Dehumidifier)
3
HP1501-90
1
Lenght=220cm(88inch) Diameter: 90cm (36inch)
3
Feature and Function:
Slide type entry door with wide and convenient transparent viewing window.
Easy operation: One people can operate it without assistance.
Interphone system for two-way communication.
Automatic air pressure control system.
Automatic digital display technology to show data like pressure, purity, humidity and temperature.
Price Term: EXW
Payment: T/T, Credit Card
Warranty: One-year guarantee of service
Validity of quotation: One month from the date of sending.
Warranty: During the warranty period, if there is any faulty in materials or workmanship on the equipments under correct operation, new necessary components or machines will be offered for repairing or replacing freely.
(This warranty does not include the shipping cost to and from Shanghai Baobang)
Optional Components
| Item Name | Picture | Remark | Qty |
| --- | --- | --- | --- |
| All-in-one machine | | upgrade to 10 liter per min oxygen flow | 1 Set |
| Chiller / Air con | | | 1 Set |
Specification Data
Components
Specification
HP1501-75
HP1501-90
Chamber Cabin
Pressure:
1.5ATA
1.5ATA
Weight:
150Kg
170Kg
Size:
Length = 220cm(88inch)
Diameter: 75cm (30inch)
Length = 220cm(88inch)
Diameter: 90cm (36inch)
Capacity:
ONE ADULT
ONE ADULT ONE CHILDREN
LED and Wheels:
YES
Two-way Communication System:
YES
Three-in-one machine System
Air Flow:
80L/Minute
Oxygen Flow:
5L/ Minute
Weight:
80kg
Power:
1200W
Size:
58(L)x42(W)x56(H)cm
Voltage:
110/220V
Chiller (air condition system) OPTIONAL
Refrigeration Capacity
1.78kw
Water tank Capacity
15L
Refrigerant
R410A
Temperature precison
0.3℃
Machine weight:
31kg
Maximum Power
800W
Packing Data
HP1501-75
Item
Package
Size
G.W
N.W
Volume
Chamber Cabin
Wooden Case
224*94*122cm
270Kg
150Kg
2.58 CBM
Three-In-One Machine
85*53*87cm
100Kg
80Kg
0.39 CBM
Total
370Kg
230Kg
2.97 CBM
HP1501-90
Item
Package
Size
G.W
N.W
Volume
Chamber Cabin
Wooden Case
243*115*134cm
390Kg
180Kg
3.75 CBM
Three-In-One Machine
85*53*87cm
100Kg
80Kg
0.39 CBM
Total
490Kg
260Kg
4.14 CBM
Optional
Chiller / AC Unit
Wooden case
65*55*74cm
50Kg
40Kg
0.27CBM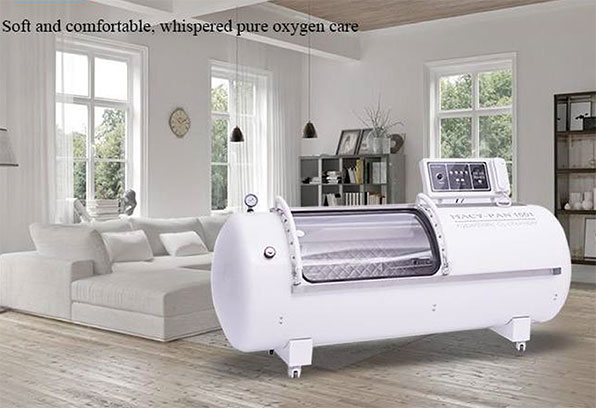 ask for a quote